Add your review
Review Power Pack XL DIM
€49,90 *
SRP
(€59,38 Incl. tax)
EPV Power Pack XL DIM with On/Off + daylight dimming, high-load relay output 2300VA / 800 A and 1-10V output. Supports all 24V occupancy sensors apart from the 24V/5Si.
5 - 9 days. Due to the festive season and annual stock taking there will be no deliveries from 21.12.2017 up to and including 02.01.2018.
The ecos Power Pack XL DIM enables simple connection of ecos PM/24V occupancy sensors with and without dimming function.
One MASTER sensor and up to 30 SLAVE sensors can be connected in parallel. The connected sensors act as one sensor with a large monitored area.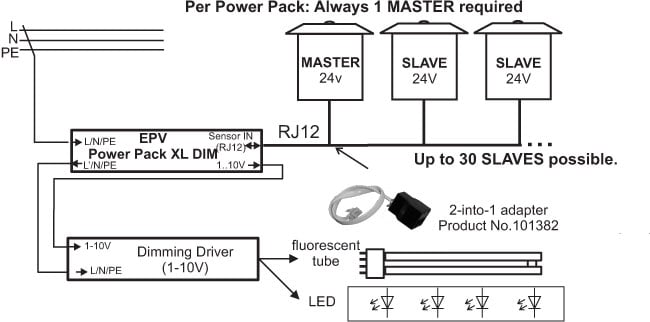 Typical use: Open plan offices, large areas, large switching loads
Power Pack for the ecos 24V sensors with dimming function
On/Off + Dimming
Switches 2300 VA / 800 A inrush (double-latch Tungsten relay)
1-10V dimming output
Connects 1 MASTER DIM sensor and up to 30 SLAVE sensors
With strain relief & terminal covers
Downloads:
Data sheet PP XL DIM