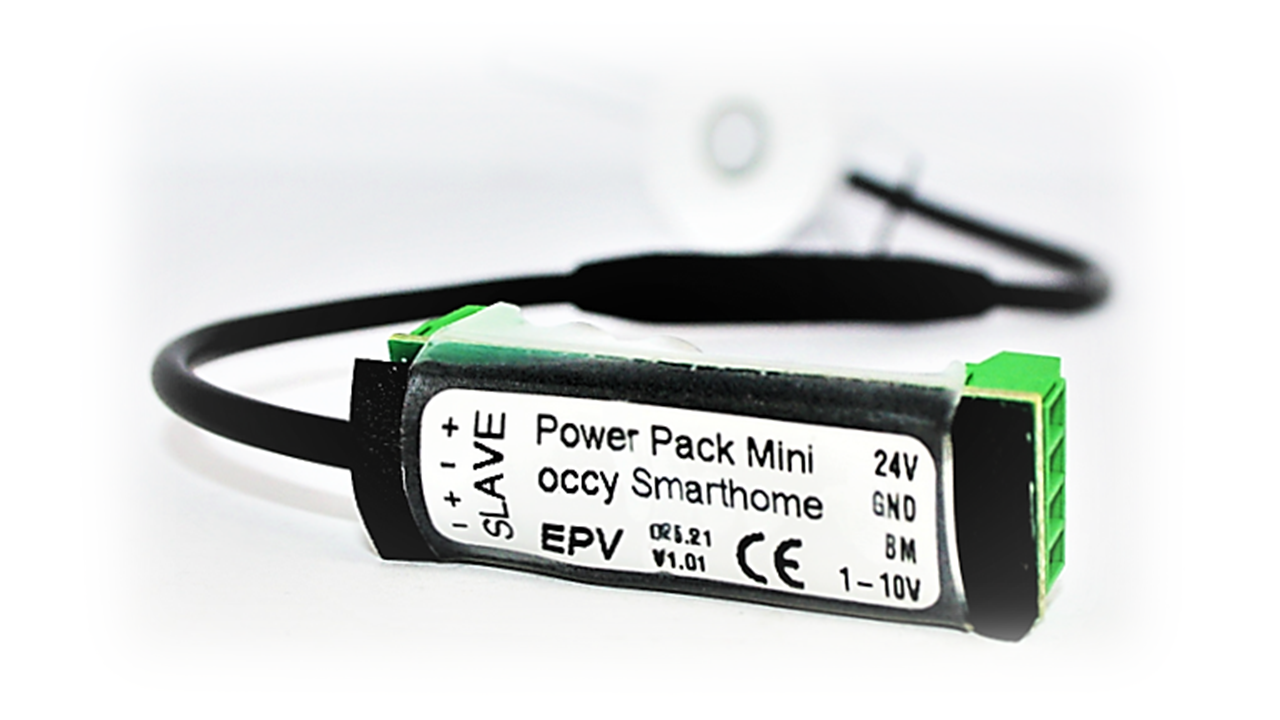 It makes occy® the ideal sensor signal source for your Smart Home system, e.g. for Loxone, Homematic, Comexio, WAGO and similar. occy® generates raw signals which you can then process further in your control system. 
Instruction manual / data sheet 
Electrical Connection & Commissioning

occy supplies you with two signals: 
the motion signal as a high / low level output (100% silent, non-audible transistor output in push-pull setup) with a delay time of approx. 10 seconds. Motion = High. No motion = Low. You can connect this output to the binary input of your control system. 
the measured overall room brightness (lux-level) as a 1-10V Signal, usable actively or passively: 0 Lux = 0V, 1.000 Lux = 10V. 
Max. load on both signals (active & passive): 10mA. 
For the connection to most control systems (e.g. Loxone) no pull-up resistor is required. Connections on powerpack: screw terminals (flex: up to 1.5mm2 / flex: up to 1 mm2
The occy Smart Home sensor consists of the sensor head and a tiny electronics unit (power pack) to connect to your control system. 
You can quickly and easily expand the monitoring area with up to 5 additional occy sensors
The coverage area of an occy® sensor can be extended by connecting up to 5 more occy® sensors with any standard 2-core cable.
Your benefit: In this way, coverage extension does not require additional inputs on your control system to be used. Long hallways and very large rooms can be monitored with minimal installation effort. All connected sensors work in parallel, i.e. like one sensor with a very large coverage area. 

Distance between sensor head and powerpack: up to 30 meters
If required, the power pack can be located far away from the sensor head. For this purpose you can extend the connection between sensor and powerpack (4 core jack/socket cable 3.5mm) up to 30 meters. This is possible in a very simple plug & play fashion with our 7-meter extension cables. 
Coverage / observation area & how to expand it
The covered area is circular (360 °), its size varies with the installation height of the sensor.

How to calculate the area: D = 2.22 x H (D= diameter of the observation area, H = ceiling height)
Example: H = 3 meters -> The observation area has a diameter of 6.66 meters
For the 24V smart home version the coverage area can easily be extended by connection further occy sensors without requiring further inputs on your control system.

Commissioning & Test Mode
After you connect the supply voltage, occy goes into a test mode. For 5 Minuten the green LED lights up whenever motion is detected. After that, the LED remains off. During normal operation, the sensor does not create any visual or acoustic signal / noise.