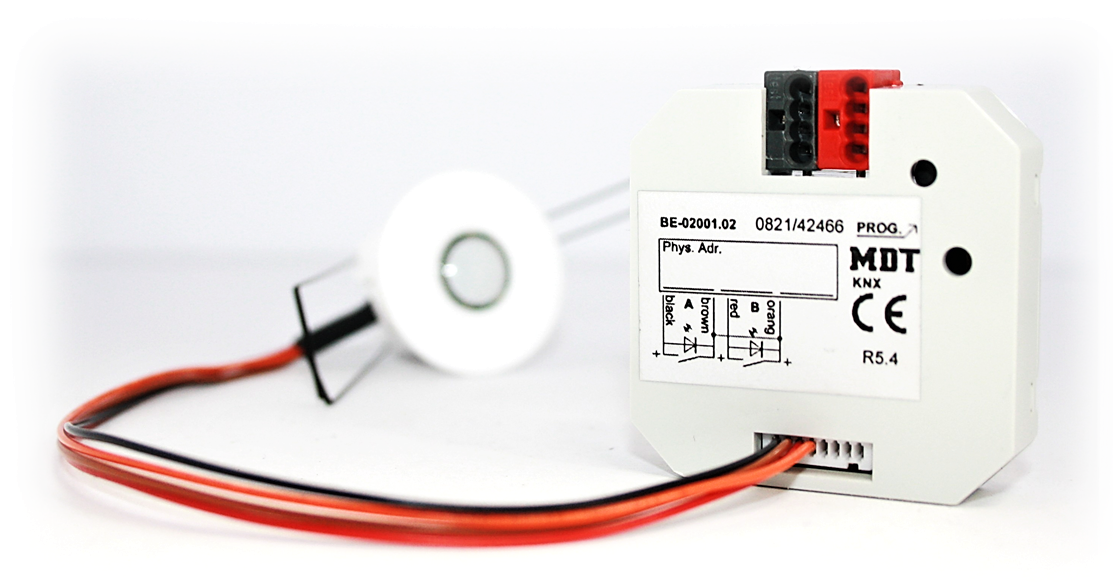 Many KNX projects require reliable occupancy sensors that blend unobtrusively into premium interiors. In addition, installation and commissioning should be a breeze with ETS. 
That's what occy® KNX Basic is made for. This version consists of the sensor head with all accessories for the different installation options.
The KNX connection takes place through the supplies MDT universal KNX interface. Once channel of the interface serves as power supply for the sensors. No external power supply is required, power is supplied through the KNX bus. The second channel supplies the switching information. 
Currently, the occy KNX version supplies the motion signal only, no lux level information.
The included step-by-step instructions makes installation and commissioning easy and quick. With occy® KNX Basic you realise presence detection and occupancy sensing in KNX projects elegantly and simply.
Quick guide for KNX commissioning in ETS 
Coverage / observation area & how to expand it
The covered area is circular (360 °), its size varies with the installation height of the sensor.

How to calculate the area: D = 2.22 x H (D= diameter of the observation area, H = ceiling height)
Example: H = 3 meters -> The observation area has a diameter of 6.66 meters
Commissioning & Test Mode
After you connect the supply voltage, occy goes into a test mode. For 5 Minuten the green LED lights up whenever motion is detected. After that, the LED remains off. During normal operation, the sensor does not create any visual or acoustic signal / noise.