Occupancy sensors are very sensitive PIR (passive infrared) motion sensors.
Would you like to achieve substantial energy savings and comfort improvements with little effort?
Are you looking for a way to implement energy optimizations in existing buildings quickly and inexpensively?
Would you rather rely on proven 230V technology to achieve energy efficiency in new buildings instead of complex & expensive smarthome systems? 
Then the ecos 230V presence detectors are the right choice for you.
In most existing buildings, significant energy savings and comfort improvements can be achieved with comparatively little effort. 
This is exactly what ecos 230V presence detectors are made for! Here you will find reliable, small ceiling-mounted presence detectors with a good price/performance ratio. Ideal for retrofitting in existing buildings! 
Typical applications:
Offices
Meeting rooms
Corridors / hallways
Living rooms
Classrooms
Bathrooms and toilet areas
The 230V detectors have a built-in high power relay and switch 230V loads directly.  Even "difficult" capacitive loads such as LED lights can be switched reliably over time.
Like all EPV presence detectors, they use digital PIR technology. As a result, ecos detectors combine high sensitivity, reliability and a very small design.
In addition, depending on the model, ecos detectors offer further functions such as daylight-dependent control of lighting brightness or presence-based dimming. 
| | |
| --- | --- |
| They are specifically designed for demanding applications in which small motions need to be detected and false triggerings should not occur. Typical applications include offices, class rooms and increasingly residential applications (smart homes). Standard motion sensors are not suitable for these tasks. In addition, occupany sensors can offer added functionality such as daylight-linked dimming functions for enhanced savings and comfort. |   |
Which 2 main characteristics should any good occupancy sensor offer?
High sensitivity
Small size so that it sits very unobtrusively in the ceiling
The technological challenge is to achieve both simultaneously in a product. Sensitive sensors are usually large and ugly. Small motion sensors generally do not deliver the required sensitivity. To make matters worse, many simple motion sensors are being falsely advertised as occupany sensors.
The solution: EPV's digital PIR technology
EPV occupancy sensors combine both requirements in small, very sensitive sensors. This is possible because they feature a different PIR technology than most competitors. Most competitor sensors use conventional analogue PIR modules, making them large, less sensitive and prone to false triggerings. In contrast, EPV is fully dedicated to digital PIR technology.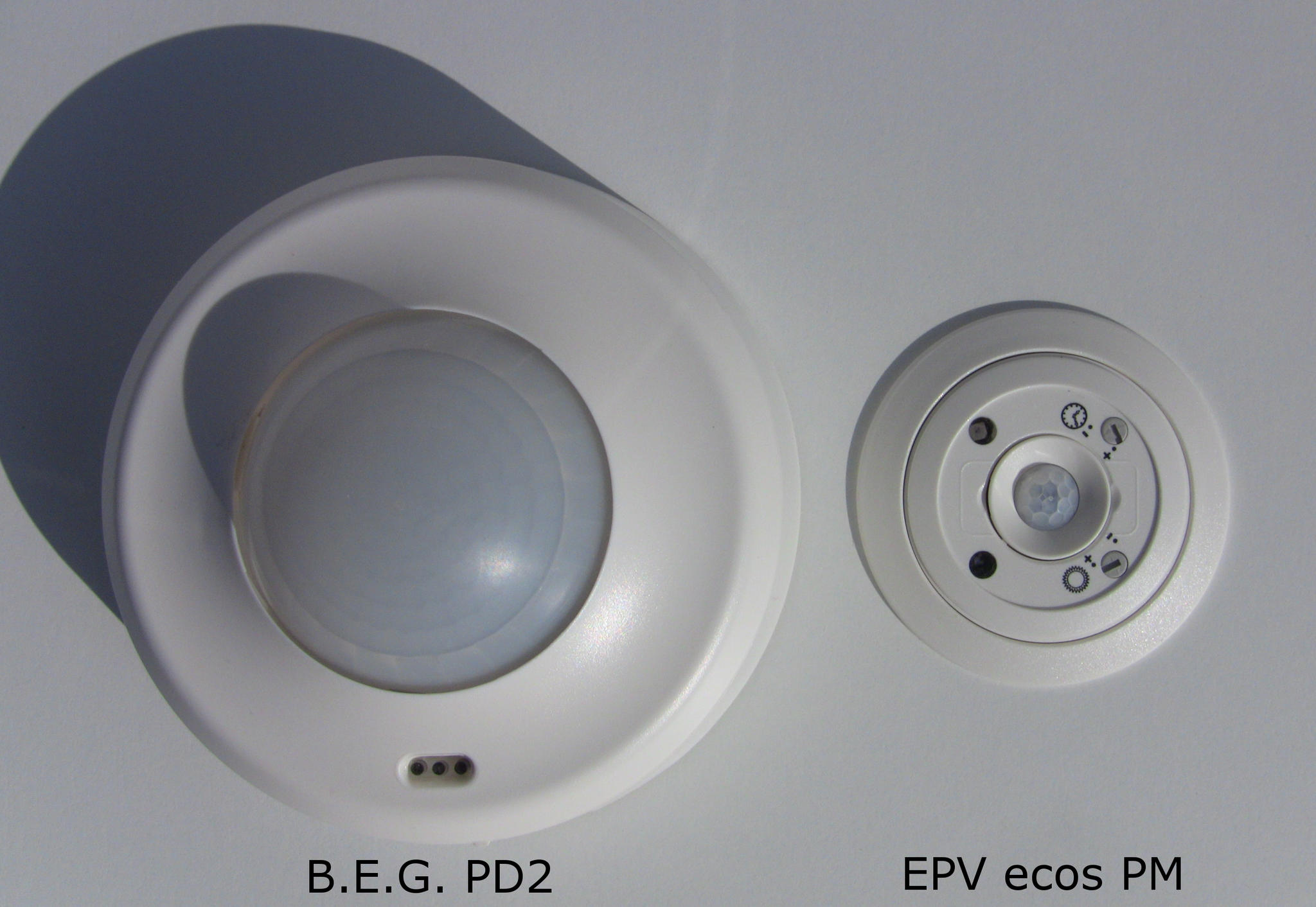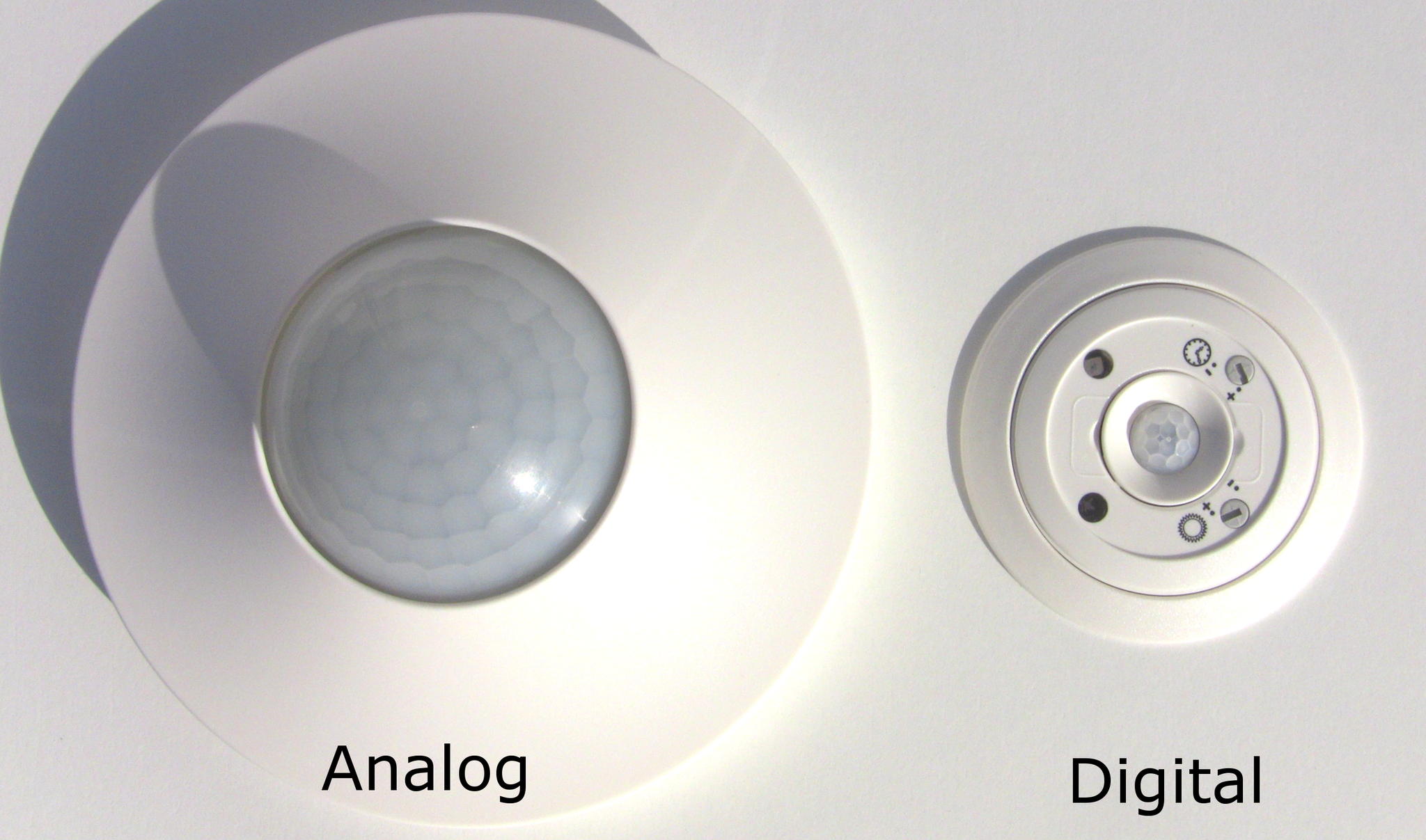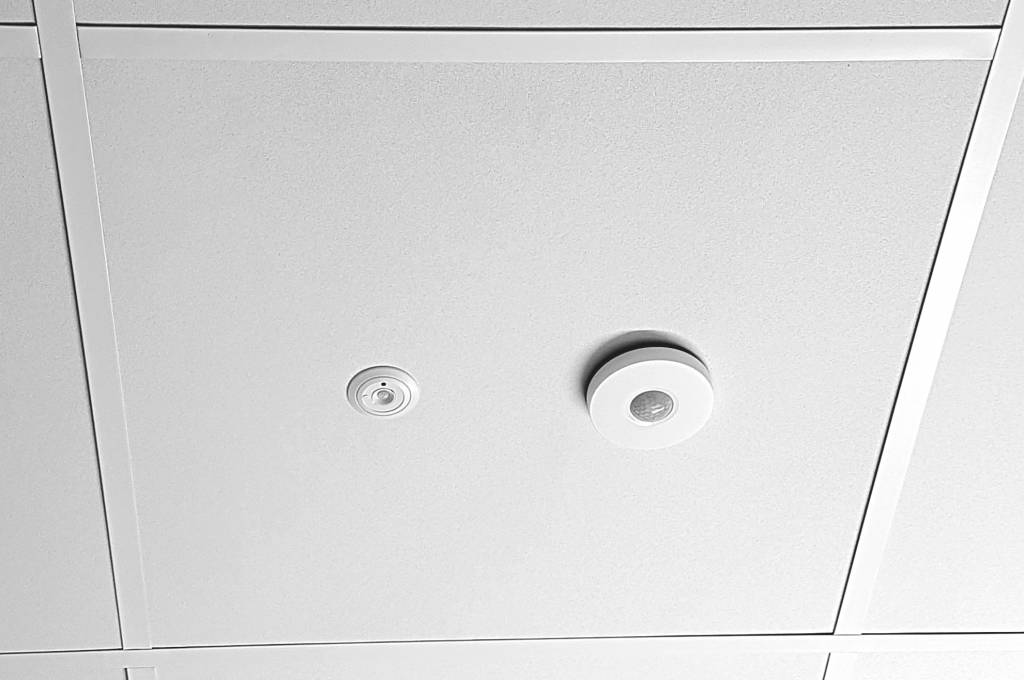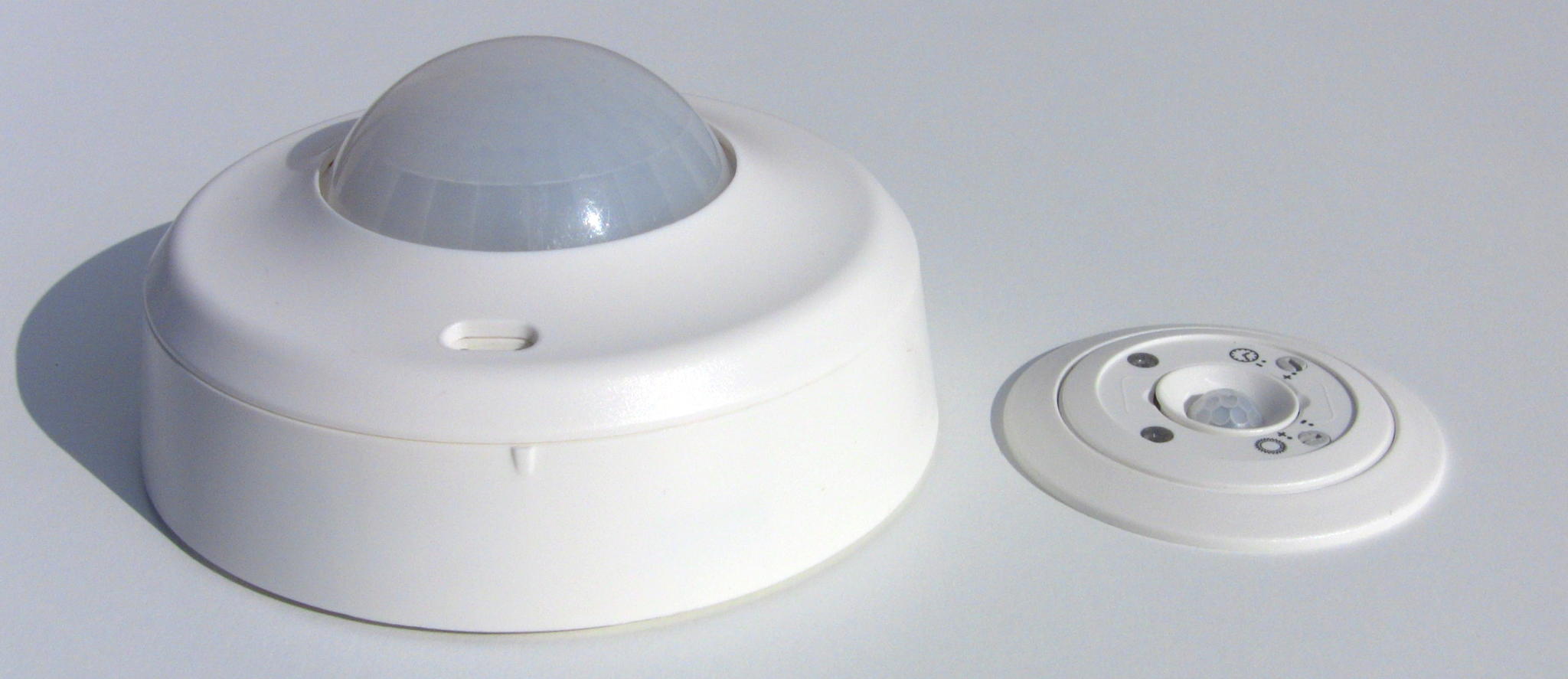 Electrical connection of ecos 230V occupancy sensors                              
| | |
| --- | --- |
| This will in many cases simplefy the installation because L, N and L are connected to the WAGO plug and not directly to the occupancy sensor. Only the wired WAGO plug will be inserted into the sensor. Apart from a good strain relief for the wiring it provides protection against touching the terminals. | |
For models with dimming function, the WAGO plug set also incudes a 1-10V plug.
As a project solution, we also offer pre-cabling in "Wieland" or "Winsta" format on request. Please contact us at [email protected]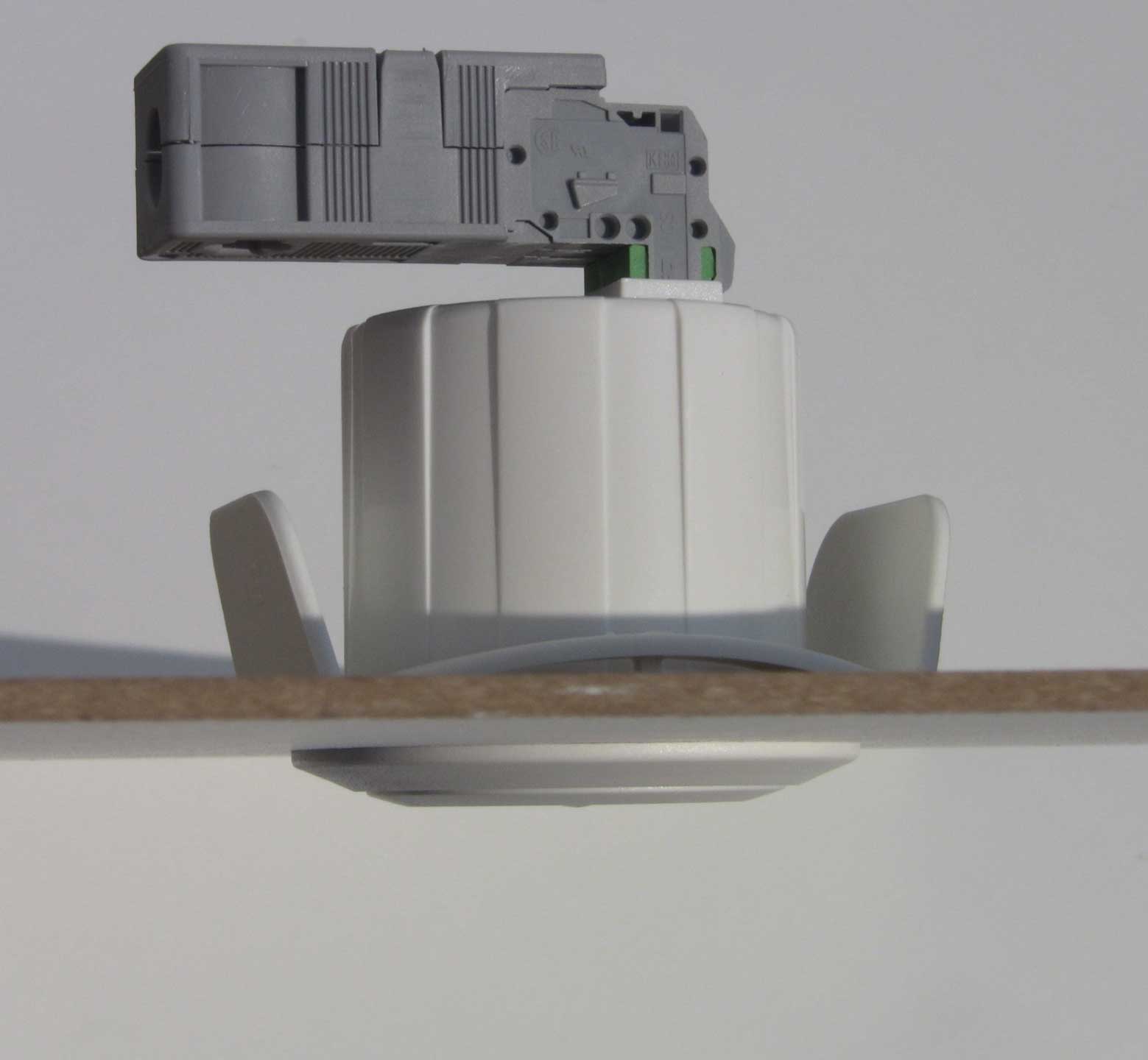 Installation & Accessories (ceiling mounting)
Option 1: Flush mounting into false, partitioned ceilings (e.g. ceiling tiles)
This is the easiest and quickest installation option. Each sensor comes with a white plastic clip which fits onto the sensor body from behind. It then holds the sensor firmly in place. To accomodate a wide range of ceiling thicknesses, the ring can be placed onto the sensor body in both directions. This installation type requires that you can actually reach the rear of the sensor with one hand. This standard clip is always supplied with each sensor.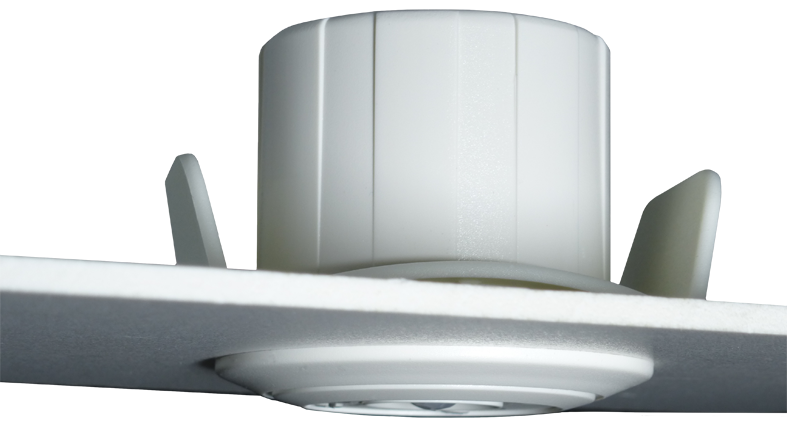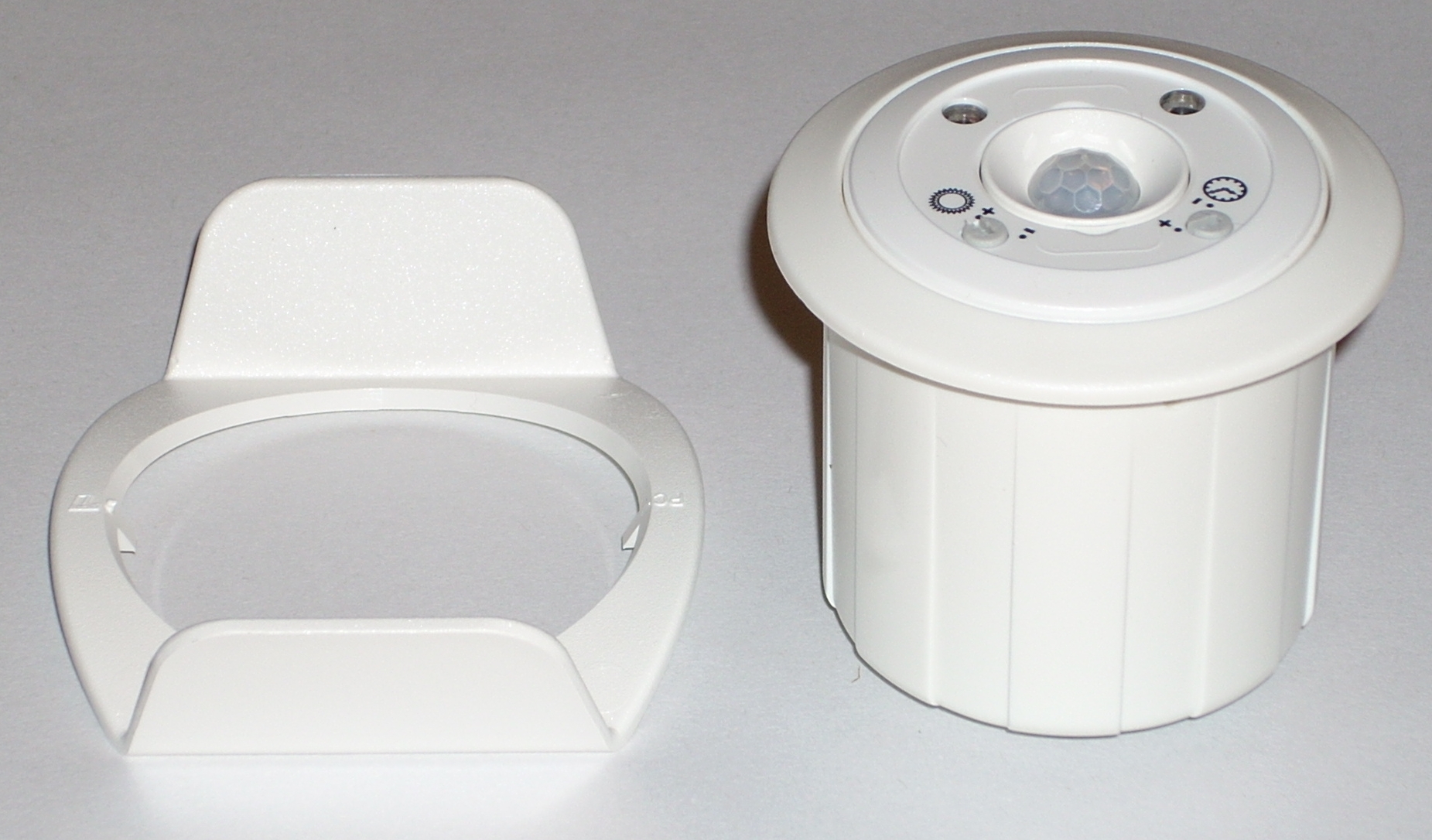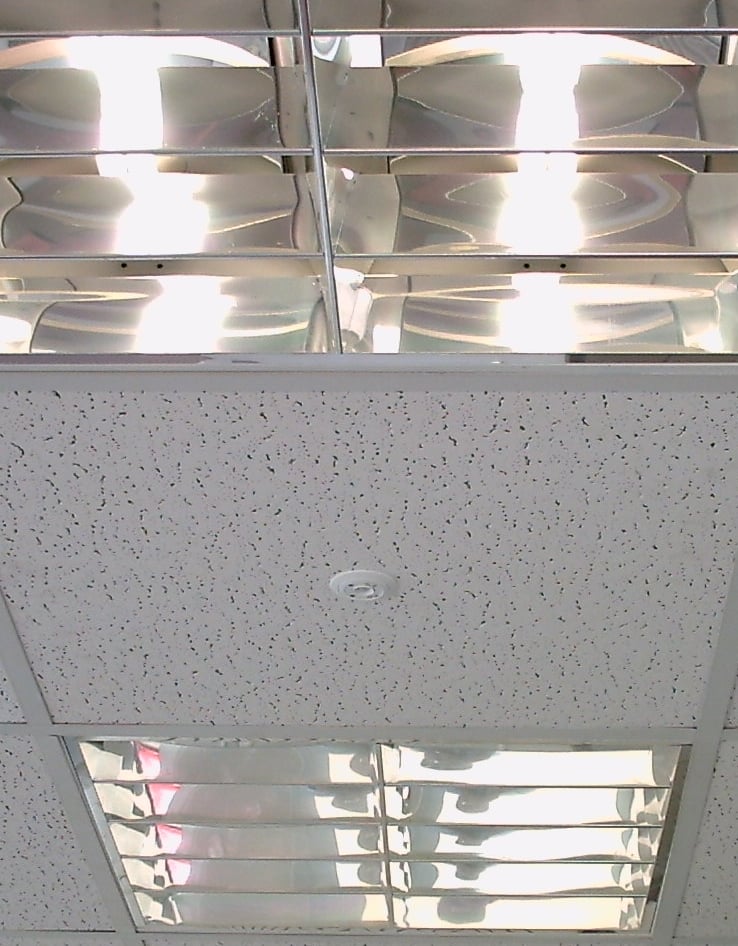 Link: Installation dimensions of ecos occupancy sensors
Option 2: Flush mounting in suspended non-partitioned ceilings, e.g. plasterboard ceilings
When you can not reach around to the rear of the sensor in order to slide the plastic holding ring on, the sensor can instead be mounted with an additional ceiling clip ring with two springs. The sensor is inserted into this ring following the electrical installation.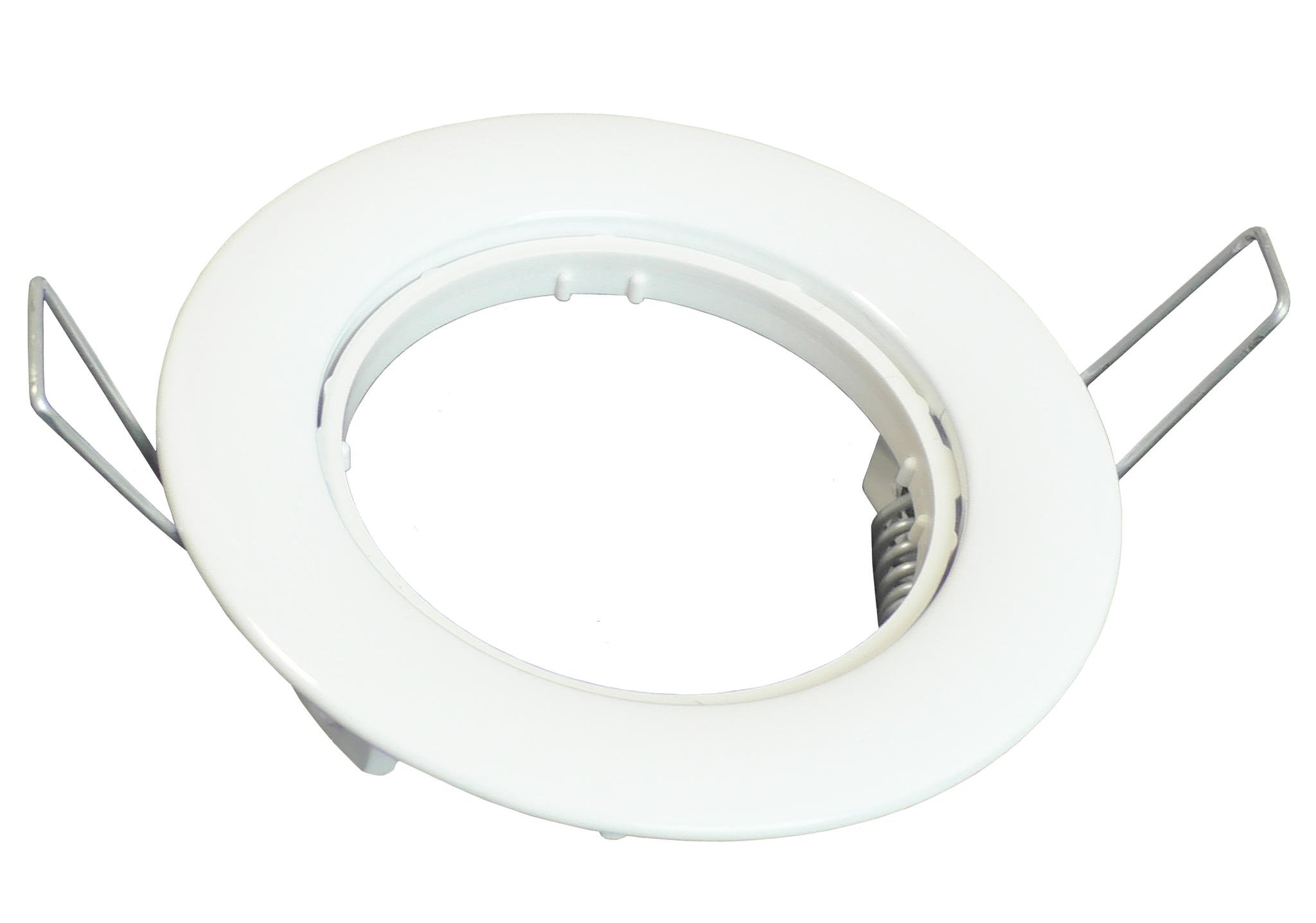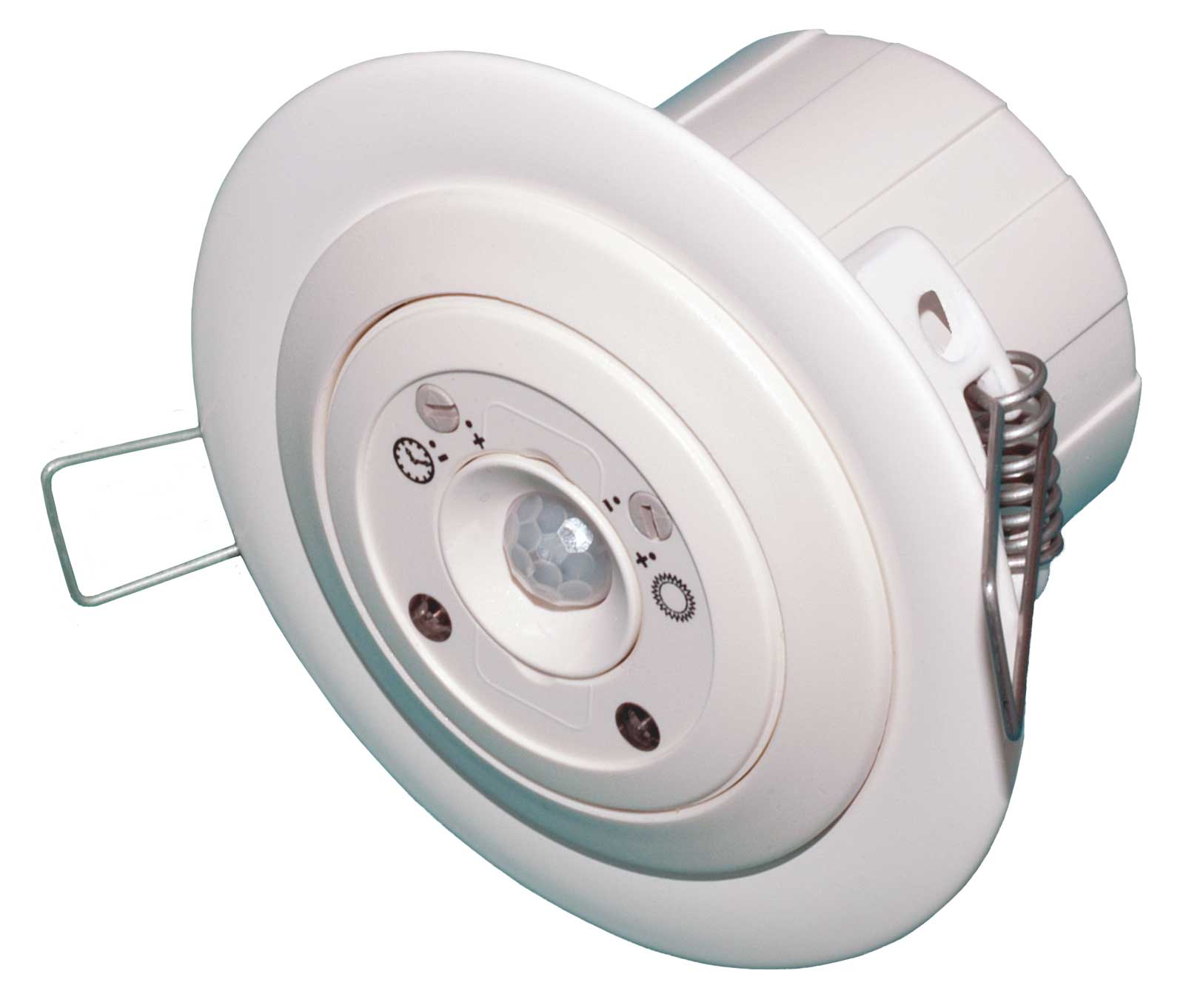 Link: Data sheet for spring clip
Option 3: Surface mounting enclosure
Where flush mounting is impossible, for example on bare concrete ceilings, the surface mounting enclosure is the best option.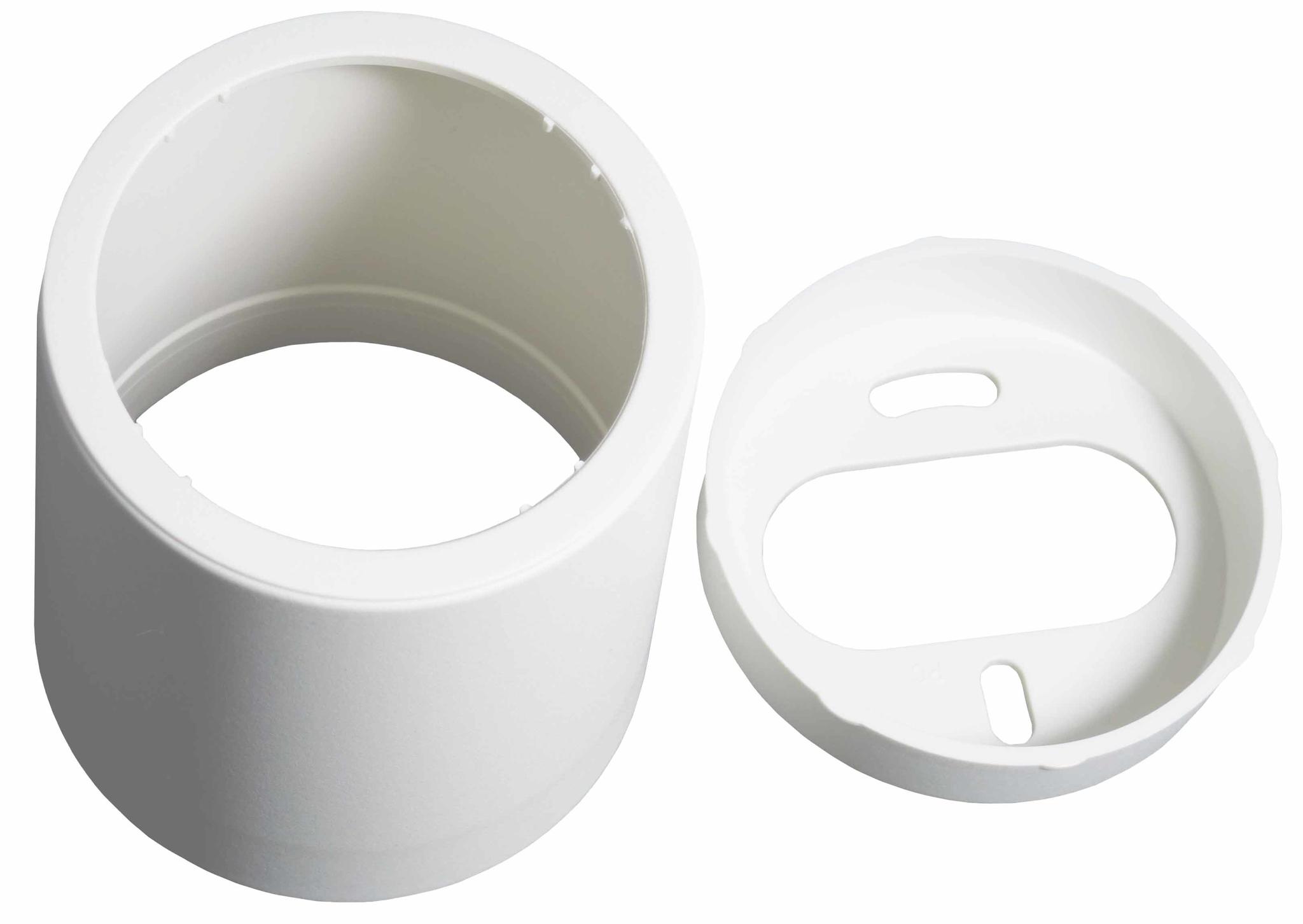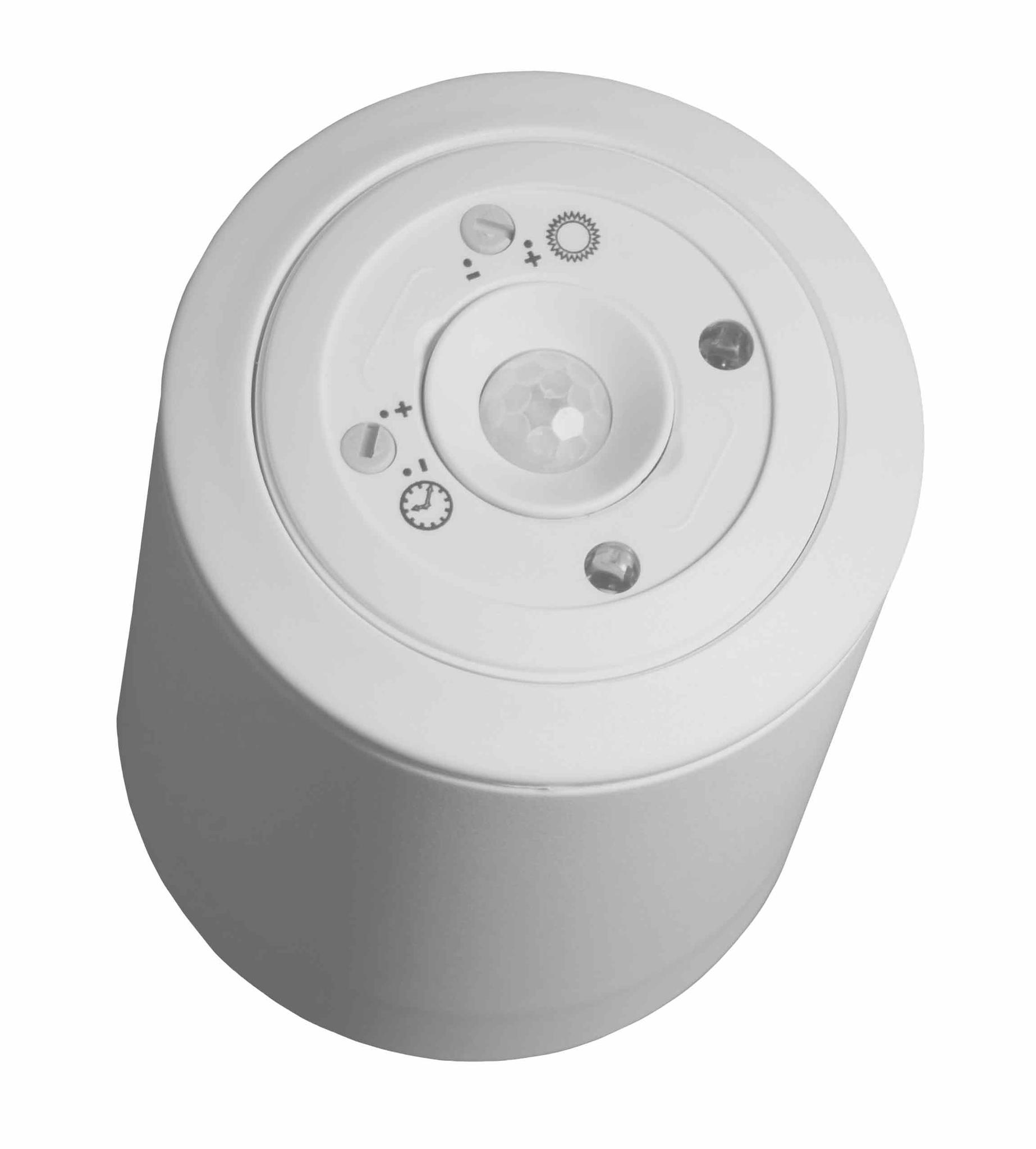 Link: Data sheet for surface mounting enclosure
Option 4: Installation in concrete canisters
In new buildings with concrete ceilings, the ecos sensors can be installed in concrete canisters. We can offer cover caps for this application. Please contact us for more details: [email protected].