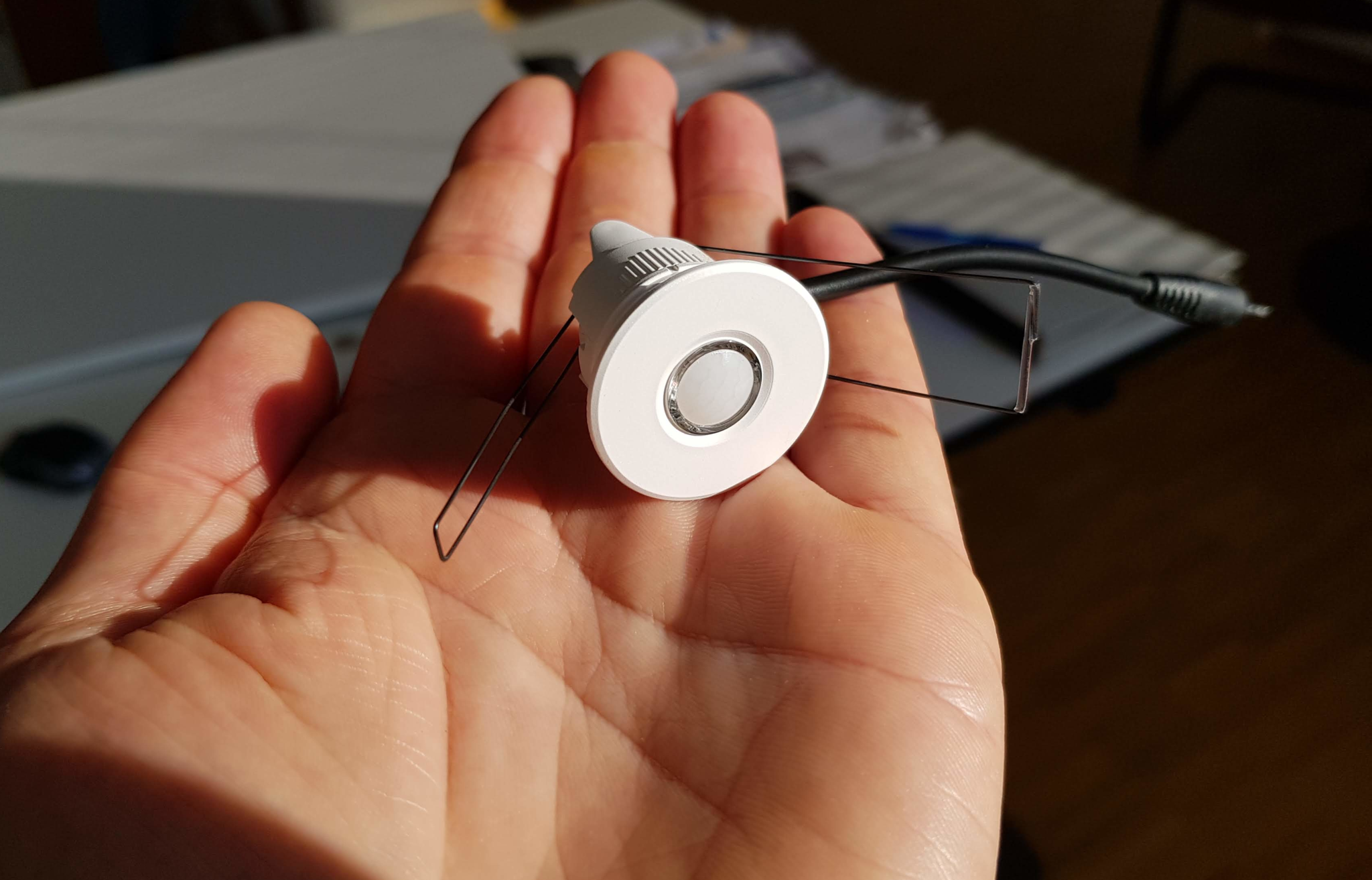 Conventional occupancy or motion sensors often appear clunky on the ceiling and destroy the harmonious overall impression of otherwise high-quality interior fitouts. This is no longer acceptable for discerning architects and lighting designers. That 's why occy® occupancy sensors follow a differerent approach. With occy® you implement reliable motion sensing and lighting control in many different application scenarios - while fulfilling high aesthetic requirements. 
In ceilings, in wall boxes or in luminaire installations: occy® does it all.
occy® occupancy sensors are extremely small and unobtrusive. The maximum required clearance is only 32mm. There are 4 different ways to install occy® occupancy sensors. All necessary accessories are supplied. occy® uses digital PIR technology. This enables high sensitivity in a small design.
It makes occy® the ideal sensor signal source for your Smart Home system, e.g. for Loxone, Homematic, Comexio, WAGO and similar. occy® generates raw signals which you can then process further in your control system. 
Instruction manual / data sheet 
4 installation options: How small do you like it? 
Occupancy sensors are no longer just installed on the ceiling. More and more clever smart home planners are using sensors also, e.g. to illuminate stairs, for night lighting at the bedside and many other ideas. Therefore occy® offers you 4 different installation options. Thanks to its small size and elegant design, there are various new and innovative installation options for your projects in addition to conventional ceiling installation.
All necessary accessories are included:

With MAXI cover: ceiling cutout 38 mm - 45 mm
With spring attachment for installation in suspended ceilings
Low installation clearance of 32 mm required, can also be installed in suspended ceilings with single battens without any problems. 
With MINI cover: ceiling cutout 25 mm 
With spring attachment for installation in suspended ceilings
Low installation clearance of 32 mm required. 
With MICRO cover (e.g. switch boxes): hole diameter 17 mm
With wing nut for attachment
For wall thicknesses up to 3 mm
NANO: minimum installation (e.g. luminaires): hole diameter 12 mm 
Fix the wing nut with 2 adhesive pads
For wall thicknesses up to 1.8 mm

Avaliable in white or black
No two projects are identical. Sometimes white sensors are your best choice, especially if you want them to blend in perfectly and be almost invisible. In other projects you might want to set visual accents and highlights. Also, if you project features grey or black ceilings, the occy® black edition might suit your requirements. You decide!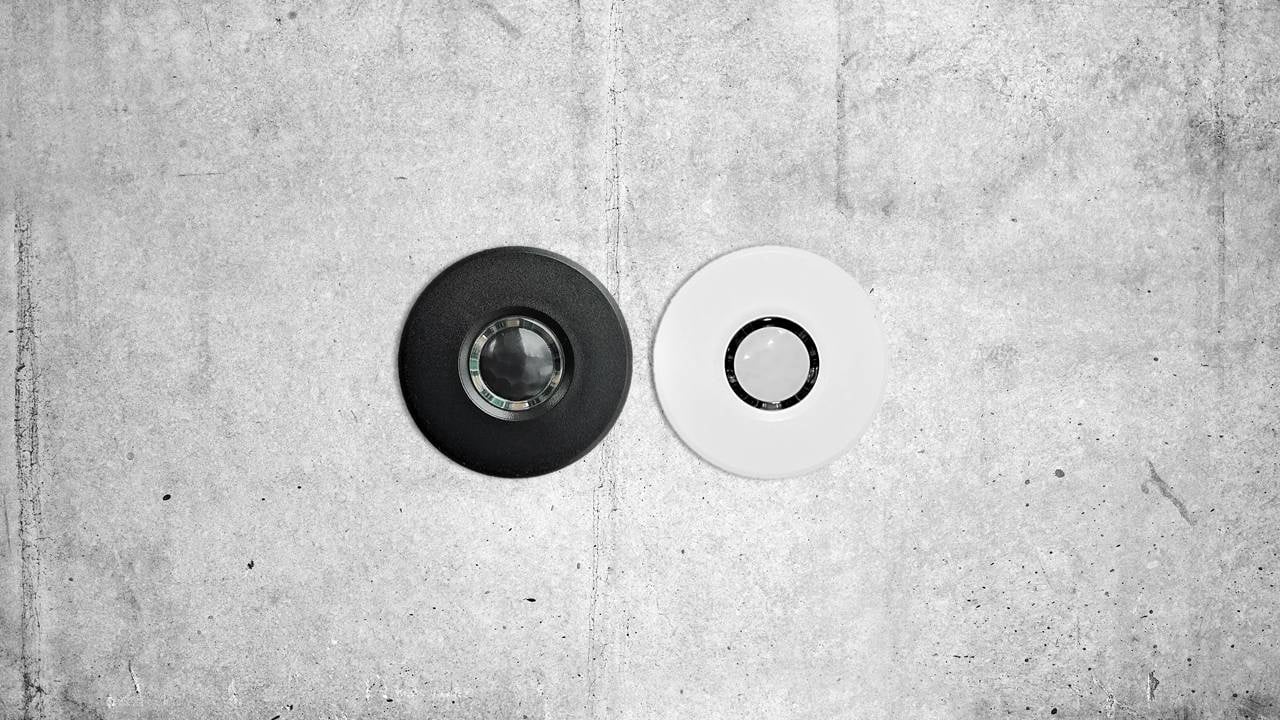 Coverage / observation area & how to expand it
The covered area is circular (360 °), its size varies with the installation height of the sensor.

How to calculate the area: D = 2.22 x H (D= diameter of the observation area, H = ceiling height)
Example: H = 3 meters -> The observation area has a diameter of 6.66 meters
You can quickly and easily expand the monitoring area with up to 5 additional occy sensors
The coverage area of an occy® sensor can be extended by connecting up to 5 more occy® sensors with any standard 2-core cable.
Your benefit: In this way, coverage extension does not require additional inputs on your control system to be used. Long hallways and very large rooms can be monitored with minimal installation effort. All connected sensors work in parallel, i.e. like one sensor with a very large coverage area. 

Electrical Connection & Commissioning

occy supplies you with two signals: 
the motion signal as a high / low level output (100% silent, non-audible transistor output in push-pull setup) with a delay time of approx. 10 seconds. Motion = High. No motion = Low. You can connect this output to the binary input of your control system. 
the measured overall room brightness (lux-level) as a 1-10V Signal, usable actively or passively: 0 Lux = 0V, 1.000 Lux = 10V. 
Max. load on both signals (active & passive): 10mA. 
For the connection to most control systems (e.g. Loxone) no pull-up resistor is required. Connections on powerpack: screw terminals (flex: up to 1.5mm2 / flex: up to 1 mm2


Commissioning & Test Mode
After you connect the supply oltage the sensor goes into a test mode. For 5 Minuten the green LED lights up whenever motion is detected.
After that, the LED remains off. During normal operation, the sensor does not create any visual or acoustic signal / noise. 
Distance between sensor head and powerpack: up to 30 meters
If required, the power pack can be located far away from the sensor head. For this purpose you can extend the connection between sensor and powerpack (4 core jack/socket cable 3.5mm) up to 30 meters. This is possible in a very simple plug & play fashion with our 7-meter extension cables. 
Customer Reviews
"Hello EPV, I would like to give my feedback regarding the new Occy Smarthome. I have 2 Occy now for a good 3 weeks in use and am super satisfied. The installation was really a breeze. I use CAT7 cables which I connected to the powerpacks. This worked fine with the AWG23 cross section and the screw terminals on the powerpacks. All in all, the presence detector works flawlessly so far, looks great and the installation and commissioning were really easy. I also find the price-performance ratio quite reasonable compared to other sensors. Thank you for the new Occy - an enrichment for our SmartHome."  J.K. aus W.
−−−−−−−−−−−−−−−−−−−−−−−−−−−−−−−−−−−−−−−−−−−−−−−−−−−−−
"The installation is very easy. 25mm drill bit, put on the appropriate cover and connect the cable, according to the very good instructions, with the PowerPack, plug the jack plug together. The detector makes a solid impression despite the small construction. Even the filigree springs hold the detector firmly to the ceiling. Thanks to the compact design, the simple commissioning and the functions offered, the detector is reasonably priced." S.B. aus G.
−−−−−−−−−−−−−−−−−−−−−−−−−−−−−−−−−−−−−−−−−−−−−−−−−−−−−
"Hello, I would like to share the first experiences with the new occy motion detectors, also in comparison with the "older" variant, which are installed in the basement. Connecting the Cat cable to the Powerpack is much easier now, without additional resistors and clunky adapters with plastic sheathing. 
For one thing, the new sensor is installed in a hollow box with a blind lid at floor level. Placing the power pack in a hollow can is also straightforward, so the entire installation is done in less than 5 minutes. The range in the open living-dining area is even at 8m. Ceiling installation is also very simple. Powerpack connect, pushed into the dry ceiling and occy sensor with mini-aperture clipped in, ready!
In the Loxone Config there is nothing more to consider, no more input-side negating necessary. The inputs can thus be connected directly to the devices. Super is also during commissioning the green ring that lights up when moving, so you can see directly whether the BWM was connected correctly. Since the installation there are no problems, due to the small size they are not noticeable in everyday life, which is a problem with many other occupancy sensors in my eyes. If they are available to order again, we will reorder some more and equip the whole house with it." A.B. aus H.
Image Gallery