Add your review
Review Power Pack XL DIM
€79,90 *
SRP
(€95,08 Incl. tax)
EPV Power Pack XL DIM with On/Off + daylight dimming, high-load relay output 2300VA / 800 A and 1-10V output. Supports all 24V occupancy sensors apart from the 24V/5Si.
1 working day
The ecos Power Pack XL DIM enables simple connection of ecos PM/24V occupancy sensors with and without dimming function.
One MASTER sensor and up to 30 SLAVE sensors can be connected in parallel. The connected sensors act as one sensor with a large monitored area.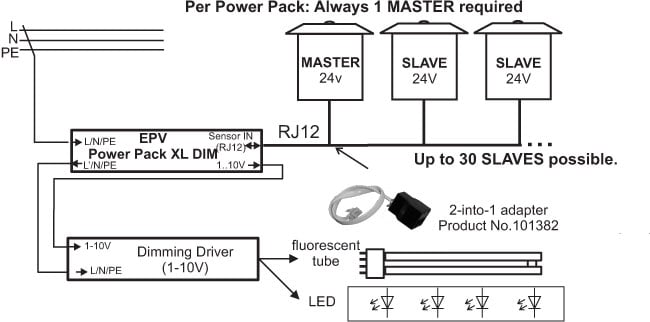 Typical use: Open plan offices, large areas, large switching loads
Power Pack for the ecos 24V sensors with dimming function
On/Off + Dimming
Switches 2300 VA / 800 A inrush (double-latch Tungsten relay)
1-10V dimming output
Connects 1 MASTER DIM sensor and up to 30 SLAVE sensors
With strain relief & terminal covers
Downloads:
Data sheet PP XL DIM