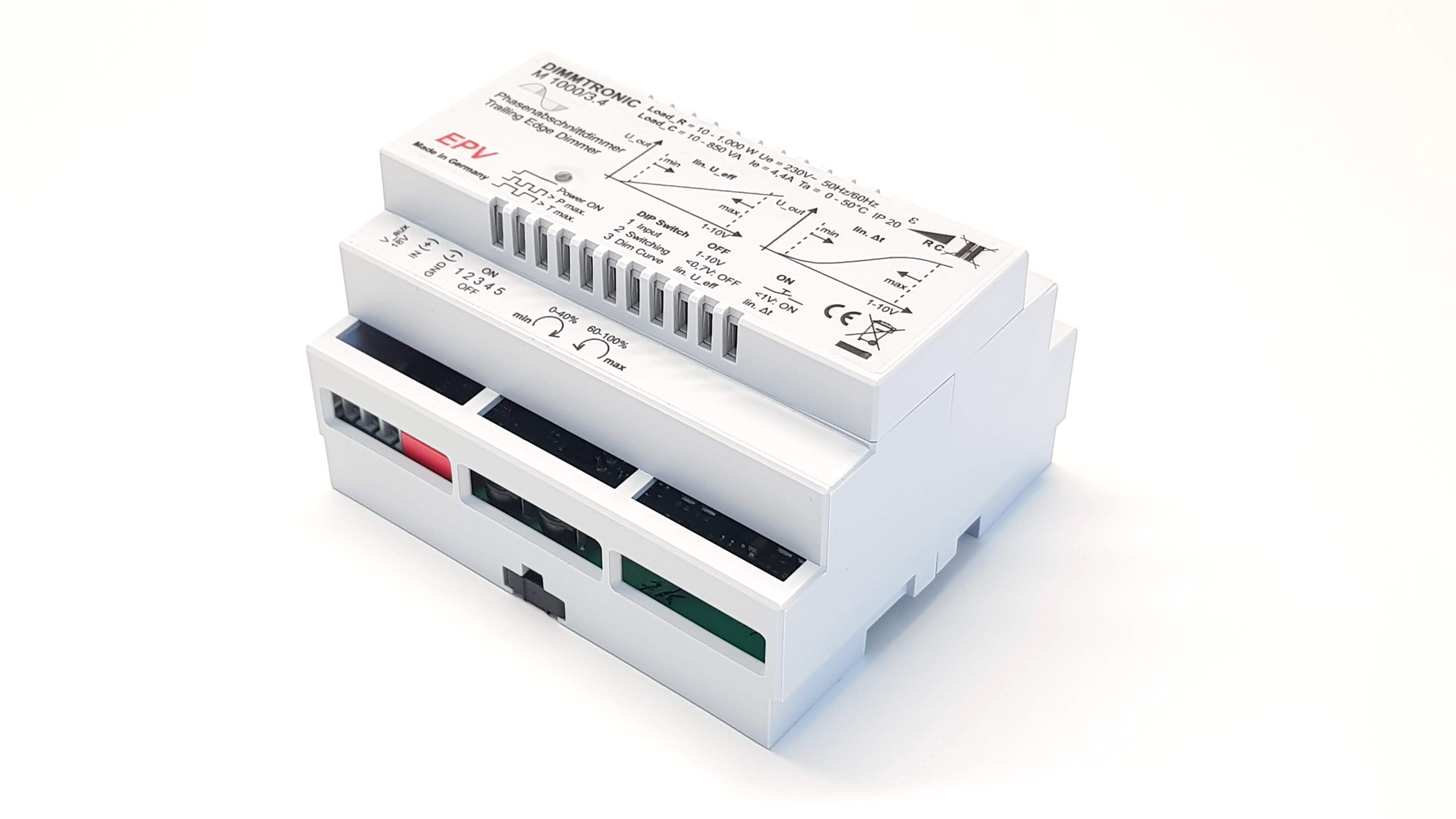 230V trailing-edge dimmer for manual or automatic dimming.
Smooth & elegant dimming for all primary dimmable lamps and lights (LED, Halogen, incandescent, etc)
Quick and simple customization of the dimming range to match your lamps perfectly and reach best dimming performance
2 dimming curve 
Manual pushbotton operation or 1-10V / 0-10V control through external signal  
Low minimum and high maximum load rating
Ideal e.g. for restaurants, hotels and private residences
EPV's M1000 dimmers are popular in lighting projects due to their reliable function and ease of use. The current product generation (3.4) offers numerous improvements to make it even easier for you to adjust the dimmers to various kinds of lighting loads. 
Through 2 dimming curves and adjustable min/max values, the dimming behaviour can now be fine-tuned easily to various project requirements. In addition, the actual dimming is now even smoother than before.
Loads
Small minimum loads, ideal for LED lights. To ensure a smooth and flicker-free dimming operation, the dimmer works with very small minimum loads upwards of approx. 10 Watt / 10 VA 
Resistive loads: max. 1000 Watt, min. 10 Watt
Capacitive loads: max. 850 VA, min. 10 VA
Pushbutton mode:
Pressing briefly = on / off.
Keep push-button pressed down = up and down dimming, each up to a maximum or minimum
no automatic traversing of the extreme values, so that the limits can be cleanly achieved
1-10V and 0-10V input signal mode:
Control via 1-10V or 0-10V signal.
10 V = set maximum output (see below) . 
1 V = set minimum (see below)
 < 0.7V: Optional switch-off (if activated)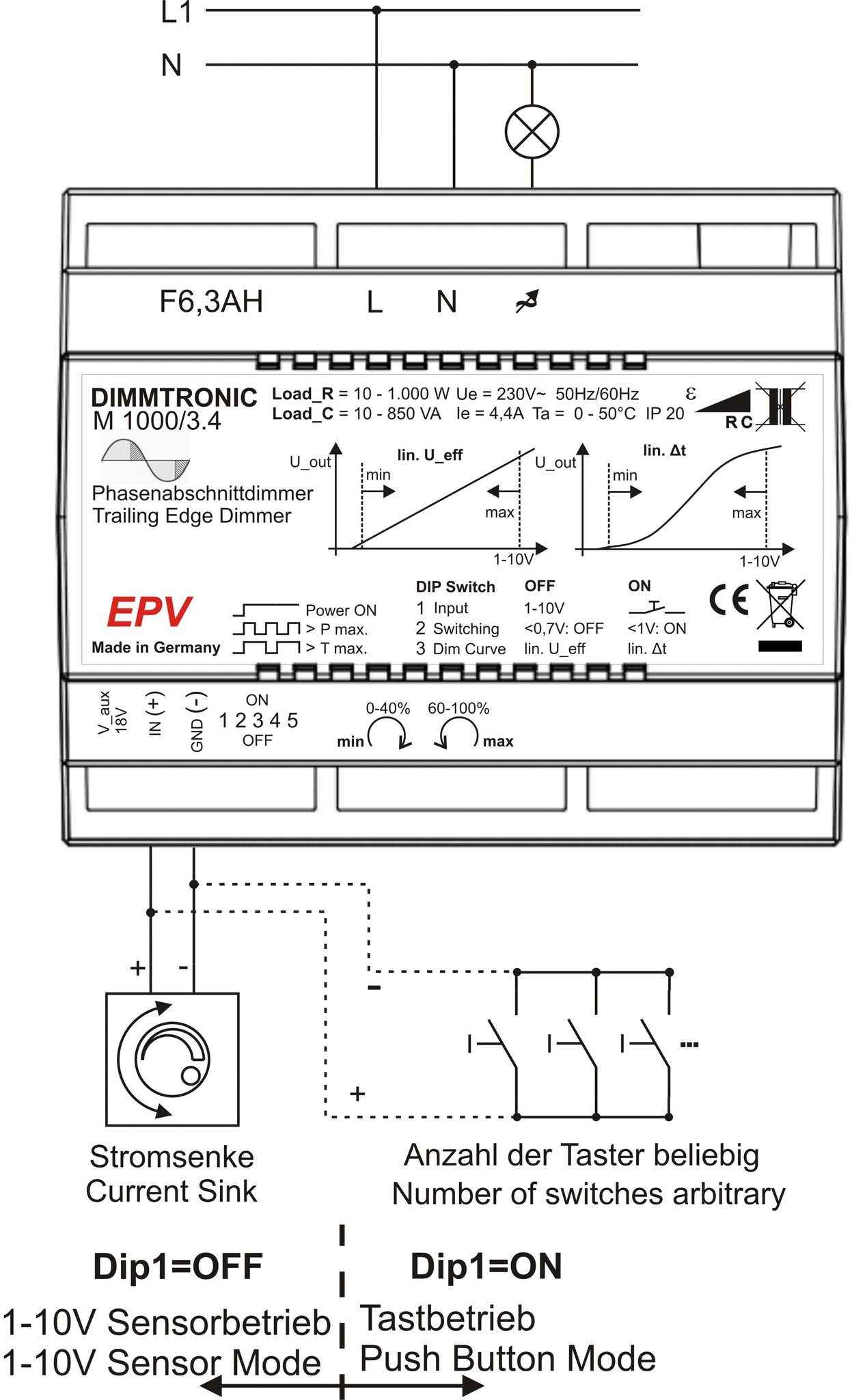 2 selectable dimming curves for best performance in your projects
In order to achieve best results with a wide range of lights and lamps the M1000 3.4 dimmer offers you a choice between two dimming curves: 
Output voltage U_eff linear
Output voltage Ueff proportional to dim angle (off-time)  
With a dip-switch you can switch betwenn the two curves.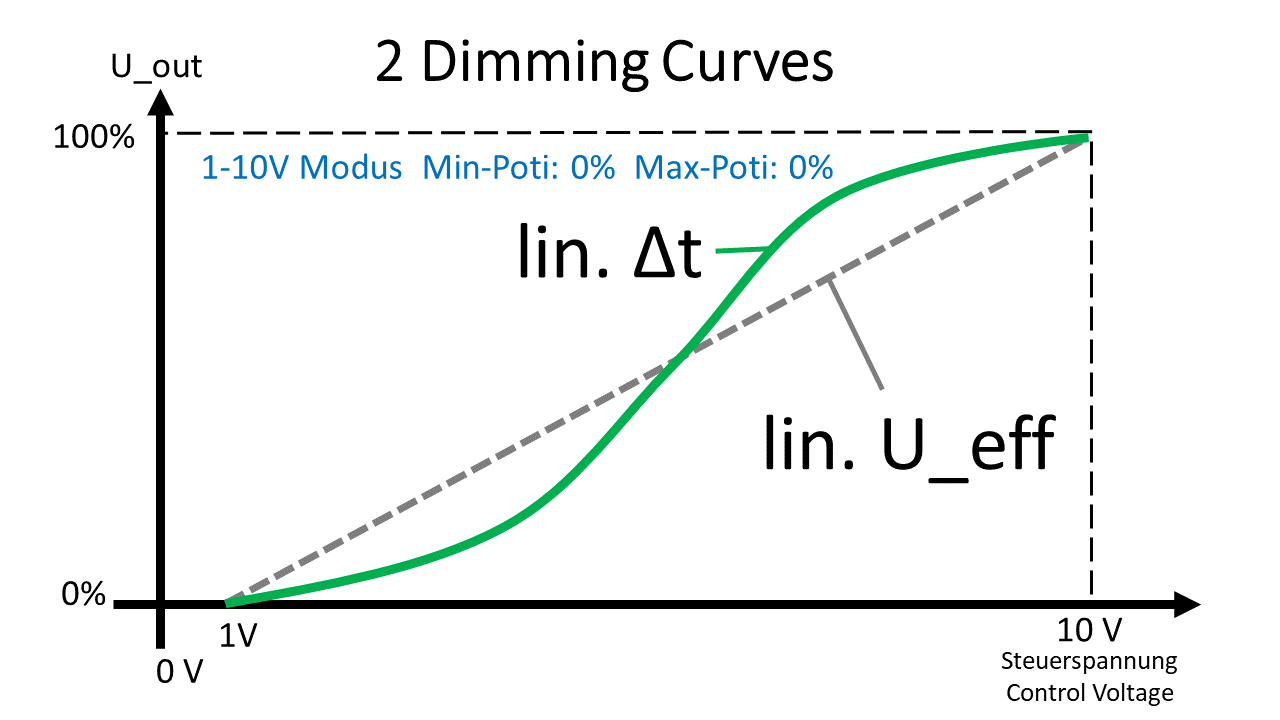 Minimum and Maximum can be set independently 
Minimum is adjustable between 0% and 40% 
Maximum is adjustable between 60% and 100% 
Special feature:
The remaining part of the original dimming curve will automatically be mapped to the full 1-10V control voltage range. This always gives the user the full dimming range without any dead margins.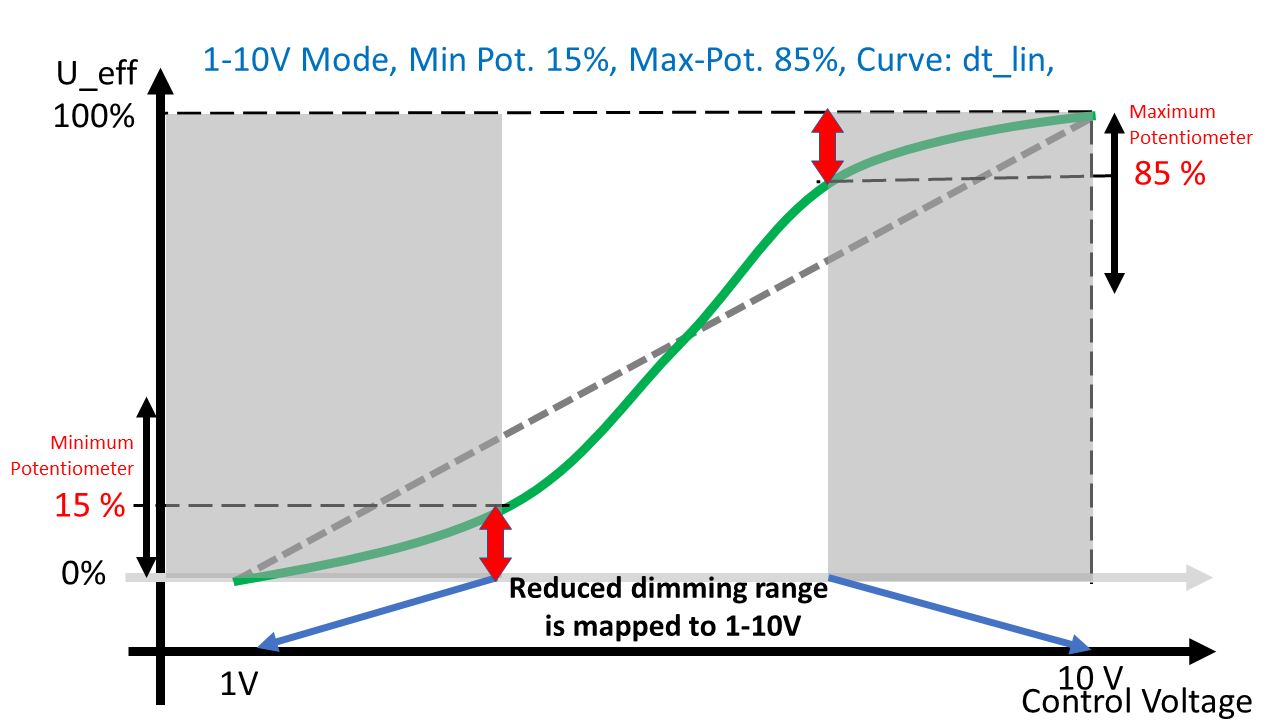 The new dimming curve after limiting the dimming range in this example looks like this (green curve is active): 
Optional: Switching-off the load through 1-10V signal  
If this function is activated through the dip switch, the dimmer switches off the connected load when the control voltage is reduced below 0,7V.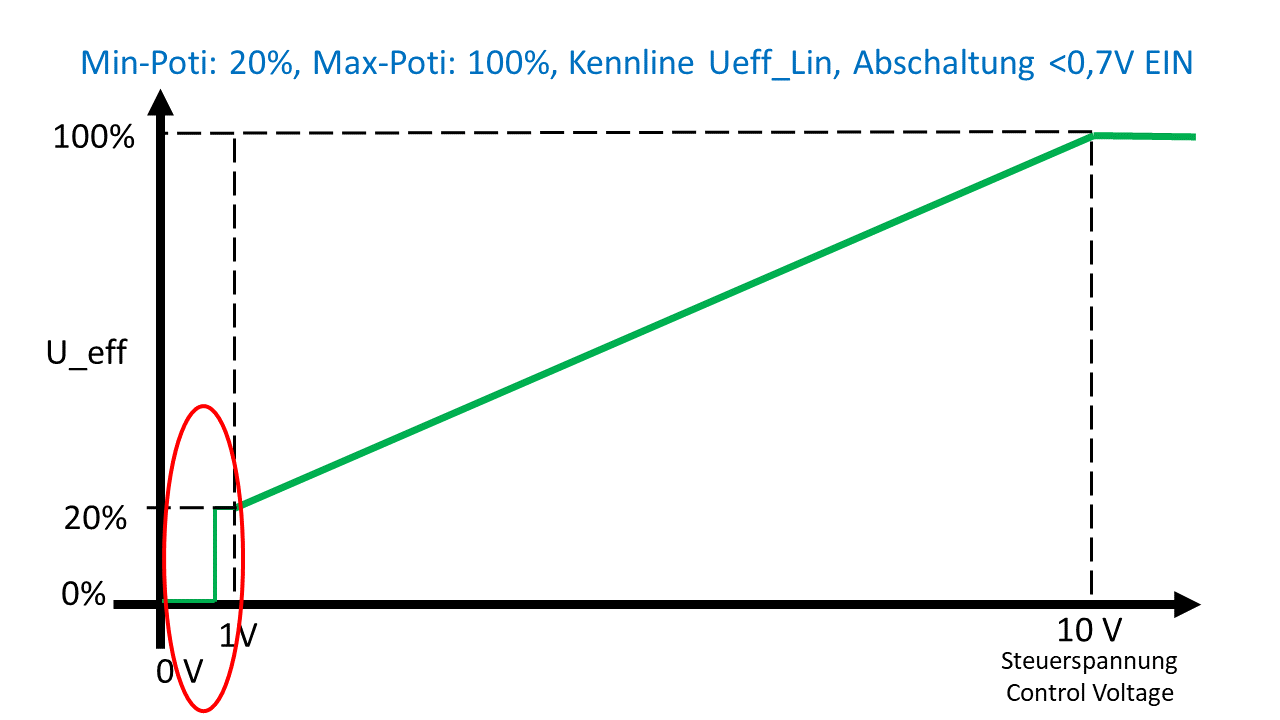 18V DC AUX supply voltage 
for direkt integration of EPV occupancy sensors or other sensors
For example you can connect EPV ecos occupancy sensors PM 24V/5K in master/slave configuration directly to the dimmer. This is a simple solution for implementing occupancy based up and down dimming of hotel or hospital corridor lighting. 
Width
Further benefits 
Softstart function to prolong lamp life
integrated thermal overload protection
During manufacturing, all dimmers have to pass individual testing and fulfill SELV criteria through galvanics 4kV separation (usual values are only 2.5 kV separation).
Low loss operation.  Even in maximum load operation the power loss is below 9W.
Connector terminals for quick and flexible wiring. DIMMTRONIC terminals cover the full range of cabling sizes: from 2 x 2.5mm2 (or 1 x 4.0 mm2) down to fine 0.5 mm2 cables. This ensures quick installation and guarantees long-term connection stability. 
Made in Germany
Downloads: