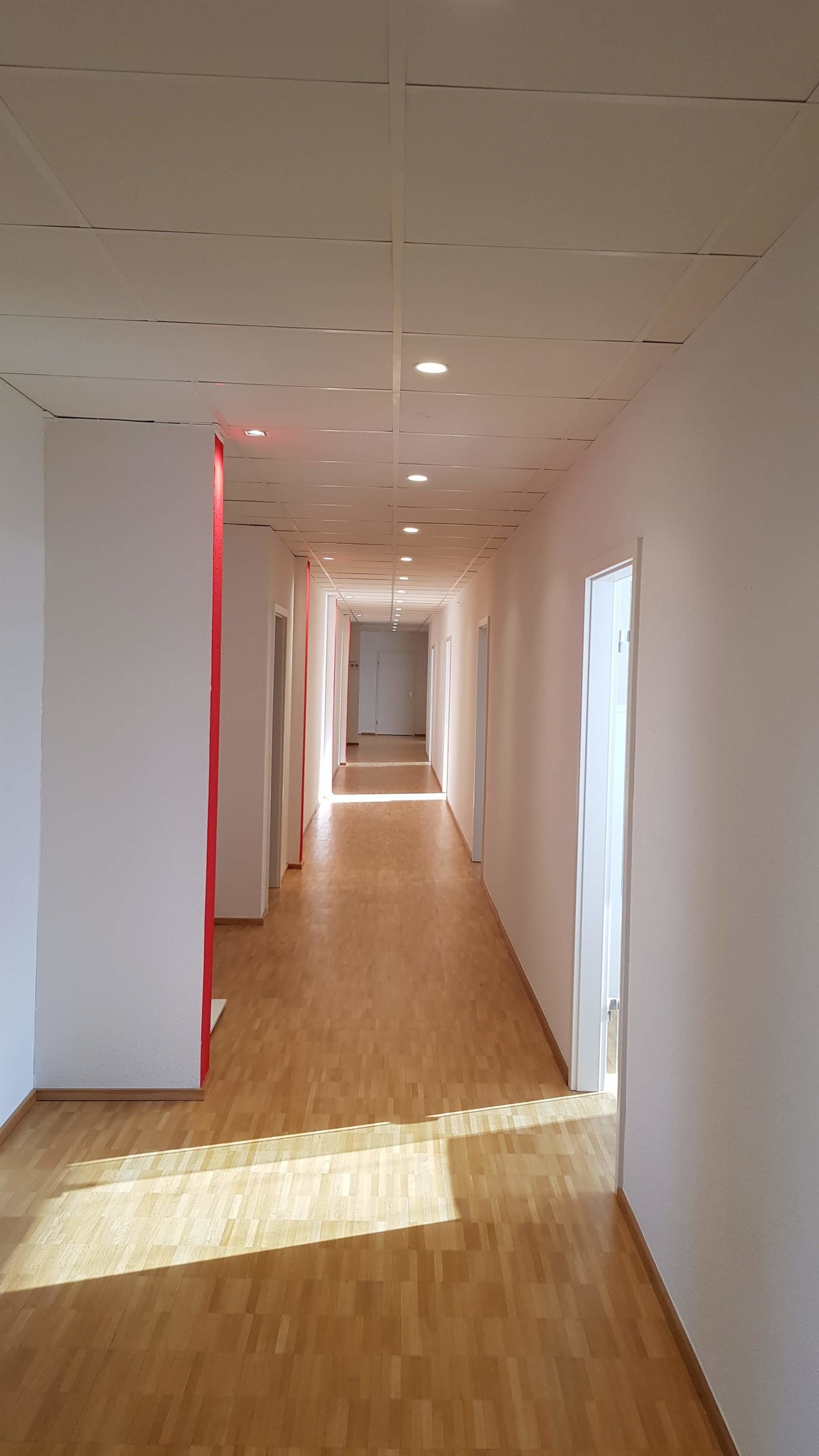 In many corridors, the lighting is often switched on continuously during business hours. Over time, this consumes a lot of energy and causes considerable costs. In an office building this was solved in a much more intelligent way with EPV products.
Which functionality was implemented?
If the corridor between the offices is used, the lighting quickly goes to 100%.

After an adjustable period of inactivity, e.g. after 30 seconds, the lighting slowly goes down to a set minimum, e.g. 15%, and remains there.

If the hallway is not used for a longer period of time, e.g. 30 minutes, i.e. after work, the lighting switches off completely automatically. It goes back to automatic mode as soon as someone enters the hallway.
How was it realized?
The long corridor is covered with 2 ecos MASTER sensors and 7 ecos PM / 24V / Slave sensors:
ecos PM/24V/5K Master - you can use this sensor to set the required minimum for absence and the time after which dimming down should begin.
ecos PM/24V/5T Master - you use this sensor to set the delay time after which the lighting is completely switched off.
ecos PM/24V/5 Slaves are used to expand the area. 
The power supply for all ecos occupancy sensors is provided by a DIMMTRONIC M1000 / 3.3 Trailing-edge dimmer. This DIN rail dimmer also dims all LED lights in the entire aisle. The ecos sensors can be operated directly on the M1000 dimmer.
All ecos sensors are connected to each other via standard RJ12 cables and the corresponding accessories via plug & play
All products used can be found at the bottom of this page.
For whom is it suitable?
This solution is suitable for:
offices 
hotels 
hospitals 
nursing homes / retirement homes
The soft moving up and down of the lighting not only looks very high quality, but is also perceived as more pleasant by the users.
If you ONLY use the ecos PM / 24V / 5K, the light always stays on at the set minimum and is never completely switched off. This function is required and popular in nursing homes, for example.